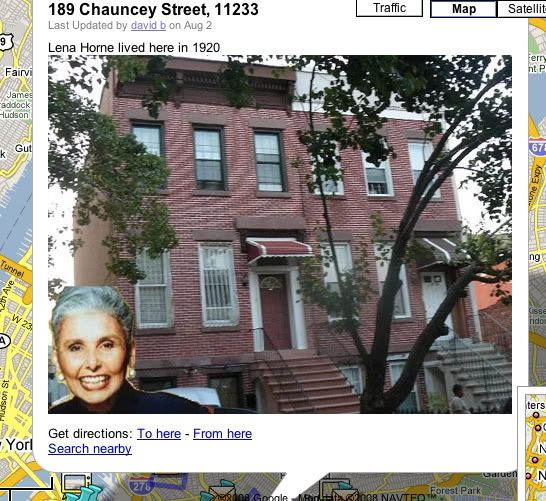 from my google map of Homes of Famous Brooklynites and Other Places of Interest
from wikipedia

Helena Mary Calhoun Horne (born June 30, 1917), is a singer and actor of African-American, Caucasian, and Cherokee descent. She has recorded and performed extensively, independently and with other jazz notables, including Artie Shaw, Teddy Wilson, Billy Strayhorn, Duke Ellington, and Charlie Barnett. She currently lives in New York City and no longer makes public appearances.
Lena Horne was born in Bedford-Stuyvesant, Brooklyn, New York, and grew up in an upper middle class black community. Her father, Edwin "Teddy" Horne, who worked in the gambling trade, left the family when she was three. Her mother, Edna Scottron, was the daughter of inventor Samuel R. Scottron; she was an actress with an African American theater troupe and traveled extensively. Horne was mainly raised by her grandparents, Cora Calhoun and Edwin Horne. Her uncle, Frank S. Horne, was an adviser to Franklin Delano Roosevelt. She is a reported descendant of the John C. Calhoun family .
Lena Horne made her film debut starring as "the Bronze Venus" in The Duke is Tops, a 1938 musical.
Lena Horne made her film debut starring as "the Bronze Venus" in The Duke is Tops, a 1938 musical.
After a false start headlining a 1938 musical race movie called The Duke is Tops, Horne became the first African American performer to sign a long-term contract with a major Hollywood studio, namely Metro-Goldwyn-Mayer. She made her debut with MGM in 1942's Panama Hattie and became famous in 1943 for her rendition of "Stormy Weather" in the movie of the same name (which she made while on loan to 20th Century Fox from MGM).
She appeared in a number of MGM musicals, most notably Cabin in the Sky (also 1943), but was never featured in a leading role due to her race and the fact that films featuring her had to be reedited for showing in southern states where theaters could not show films with African American performers. As a result, most of Horne's film appearances were stand-alone sequences that had no bearing on the rest of the film, so editing caused no disruption to the storyline; a notable exception was the all-black musical Cabin in the Sky, though even then one of her numbers had to be cut because it was considered too suggestive by the censors. In Ziegfeld Follies (1946) she performs "Love" by Hugh Martin and Ralph Blane.
She was originally considered for the role of Julie LaVerne in MGM's 1951 version of Show Boat (having already played the role when a segment of Show Boat was performed in Till the Clouds Roll By) but Ava Gardner was given the role instead (the production code office had banned interracial relationships in films). In the documentary That's Entertainment! III Horne stated that MGM executives required Gardner to practice her singing using recordings of Horne performing the songs, which offended both actresses (ultimately, Gardner ended up having her singing voice overdubbed by another actress for the theatrical release, though her own voice was heard on the soundtrack album).
By the mid-1950s, Horne was disenchanted with Hollywood and increasingly focused on her nightclub career. She only made two major appearances in MGM films during the decade, 1950's Duchess of Idaho (which was also Eleanor Powell's film swan song), and the 1956 musical Meet Me in Las Vegas. She was blacklisted during the 1950s for her political views.[4] She returned to the screen three more times, playing chanteuse Claire Quintana in the 1969 film Death of a Gunfighter, Glinda in The Wiz (1978), and co-hosting the 1994 MGM retrospective That's Entertainment! III, in which she was candid about her treatment by the studio. In her later years, Horne also made occasional television appearances - generally as herself - on such programs as The Muppet Show (where she sang with Kermit the Frog) and Sanford and Son in the 1970s, as well as a 1985 performance on The Cosby Show and a 1993 appearance on A Different World.
She appeared in Broadway musicals several times and in 1958 was nominated for the Tony Award for "Best Actress in a Musical" (for her part in the "Calypso" musical Jamaica) In 1981 she received a Special Tony Award for her one-woman show, Lena Horne: "The Lady and Her Music". Despite the show's considerable success (Horne still holds the record for the longest-running solo performance in Broadway history), she was not inclined to capitalize on the renewed interest in her career by undertaking many new musical projects. A proposed 1983 joint recording project between Horne and Frank Sinatra (to be produced by Quincy Jones) was ultimately abandoned, and her sole studio recording of the decade was 1988's The Men In My Life, featuring duets with Sammy Davis, Jr. and Joe Williams. In 1989, she received the Grammy Lifetime Achievement Award.
The 1990s found Horne considerably more active in the recording studio - all the more remarkable considering she was approaching her 80th year. Following her 1993 performance at a tribute to the musical legacy of her good friend Billy Strayhorn (Duke Ellington's) longtime pianist and arranger), she decided to record an album largely comprised of Strayhorn's and Ellington's songs the following year, We'll Be Together Again. To coincide with the release of the album, Horne made what would be her final concert performances at New York's Supper Club and Carnegie Hall. That same year, Horne also lent her vocals to a recording of "Embraceable You" on Sinatra's "Duets II" album. Though the album was largely derided by critics, the Sinatra-Horne pairing was generally regarded as its highlight. In 1995, a "live" album capturing her Supper Club performance was released (subsequently winning a Grammy Award for Best Jazz Vocal Album). In 1998, at the age of 81, Horne released another studio album, entitled Being Myself. Thereafter, Horne essentially retired from performing and largely retreated from public view, though she did return to the recording studio in 2000 to contribute vocal tracks on Simon Rattle's Classic Ellington album.
Horne also is noteworthy for her contributions to the Civil Rights movement. In the 1940s, she sang at Cafe Society and worked with Paul Robeson, a singer who also combated American racial discrimination. During World War II, when entertaining the troops at her own expense, she refused performing "for segregated audiences or to groups in which German POWs were seated in front of African American servicemen" , according to her Kennedy Center biography. She became better known during the Civil Rights movement, participating in the March on Washington and speaking and performing in behalf of the NAACP and the National Council for Negro Women. She also worked with Eleanor Roosevelt to pass anti-lynching laws.
In 2003, ABC announced that Janet Jackson would star as Horne in a television biopic (after it was rumored for years that Whitney Houston would take the job). In the weeks following Jackson's "wardrobe malfunction" debacle during the 2004 Super Bowl, however, Variety reported that Horne demanded Jackson be dropped from the project. "ABC executives resisted Horne's demand," according to the Associated Press report, "but Jackson representatives told the trade newspaper that she left willingly after Horne and her daughter, Gail Lumet Buckley, asked that she not take part." Oprah Winfrey stated to Alicia Keys during a 2005 interview on The Oprah Winfrey Show that she might possibly consider producing the biopic herself, casting Keyes as Horne.
In January 2005, Blue Note Records, her label for more than a decade, announced that "the finishing touches have been put on a collection of rare and unreleased recordings by the legendary Horne made during her time on Blue Note. Remixed by her longtime producer Rodney Jones, the recordings featured Horne in remarkably secure voice for a woman of her years, and include versions of such signature songs as 'Something To Live For', 'Chelsea Bridge' and 'Stormy Weather'." The album, originally titled Soul but renamed Seasons of a Life, was released on January 24, 2006.
Horne was married first to Louis Jones, by whom she had a daughter, Gail and a son, Edwin.
Lena Horne's second marriage was to Lennie Hayton, a Jewish American, from 1947 until his death in 1971. Hayton was one of the premier musical conductors and arrangers at MGM. In her as-told-to autobiography Lena by Richard Schickel, Horne recounts the enormous pressures she and her husband faced as an interracial married couple. However, she later admitted (Ebony, May 1980) that she really married Hayton to advance her career and cross the "color-line" in show business. She is also a member of Delta Sigma Theta Sorority, Incorporated.