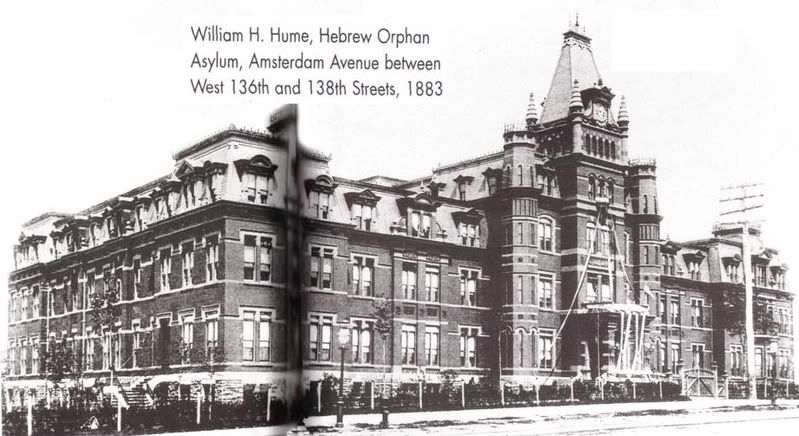 the setting for Dave At Night. The writer Art Buchwald was a resident of this Asylum.
In addition, back in 1920 the site was once considered to be the location for the first Yankee Stadium.
from A HISTORICAL TOUR OF THE GREATEST STREET IN THE WORLD.......BROADWAY
FROM NINETY-SIXTH STREET TO ONE HUNDRED AND SIXTY-EIGHTH STREET
CHARITABLE SOCIETIES LOCATED IN THE AREA OF BROADWAY.
Attracted by the salubrity and healthfulness of Washington Heights,
several charitable societies located among the country estates, on or near
the old road or upon Broadway.

A) THE SHELTERING ARMS
It was organized in 1864 for homeless children between five and twelve years
of age for whom no other institution provides, is at Amsterdam Avenue and
One Hundred and Twenty-ninth Street.

B) THE HEBREW ORPHAN SOCIETY
It was founded in 1822, is on the same avenue at One Hundred and
Thirty-sixth Street.

C) THE MONTEFIORE HOME
At Broadway and One Hundred and Thirty-eighth Street is one of the grandest
charities in the city, the Hospital and Home for Chronic Invalids, commonly
called the "Montefiore Home." It was founded in 1884 and is supported
almost entirely by the voluntary subscriptions from people of the Jewish
faith, as a memorial to the famous philanthropist, Sir Moses Montefiore; it
is open to both sexes without distinction of race or creed. The present
quarters have been found to be too cramped to carry out fully the desires of
the trustees, and arrangements are already completed to transfer the Home to
the Borough of The Bronx on the Gunhill Road near Jerome Avenue. The new
buildings are to cost $1,500,000, and will be designed to accommodate six
hundred invalids, with all modern improvements for their comfort and health.

D) THE COLORED ORPHAN ASYLUM
It was organized in 1837, was for many years at Amsterdam Avenue and One
Hundred and Forty-third Street until its removal to Mount St. Vincent. At
the time of the draft riots of July, 1863, the asylum was located at Fifth
Avenue between Forty-third and Forty-fourth streets. The malice of the
rioting crowds was directed against every one who showed color, whether
man, woman, or child, and many negroes were hanged from near-by lamp-posts.
Inspired by this hatred, the mob made an attack upon the asylum and fired
the buildings, which were consumed; but fortunately, the children were
withdrawn safely through a rear entrance. With the money obtained as damages
from the city, that secured from the sale of the Fifth Avenue plot, and that
subscribed by citizens, many of whom had never heard of the institution
until the burning of the asylum, the new buildings were started on
Washington Heights.